Role of Women in Medieval Indian Politics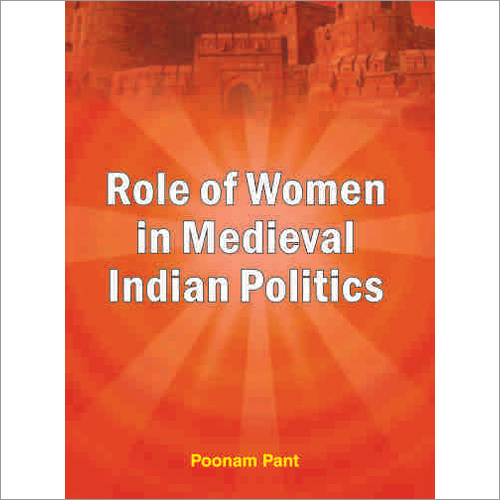 Role of Women in Medieval Indian Politics
Product Code : 978-81-930190-0-9
Brand Name : AAYU PUBLICATIONS
Role of Women in Medieval Indian Politics
Author : Poonam Pant
Pages : 158

Edition : 2015

ISBN : 978-81-930190-0-9

Price : Rs. 725 / $ 36.25

The candidate has successfully attempted to project effectively the role ofwomen in the early Turkish period, under the Khilji's and under the Mughal emperors from Babur to Jahangir. The role of Shah Turkan and Raziya in the background of initial simmering political discontent leading to major political consequences in the court politics have been assessed with necessary details. The contribution of women in court politics from Khilji to Lodi rule has been properly analysed, the position of women of Sharqi dynasty in politics has been examined throwing fresh light on the existing political development and cultural life of the region.
Professor S.N. Sinha, Jamia Millia University, Delhi
It appears that during the period from Baburto Akbar, the role of royal women became more prominent as explained in chapter three. The high water mark of influence of royal women was reached in the reign of Jahangir with Nurjahan often directing the imperial politics as delineated in chapterfour. The fifth chapter deals with royal harem which by and large acted as a centre of manipulation and intrigues in politics.
Professor B.S. Mathur, Motilal Sukhadia University, Udaipur
The author has had a uniformly meritorious academic record securing a first class in each of the public examinations of the High School and Intermediate Board and University. She passed the MA. History Examination of Gorakhpur University in 1977 securing a first class first and was awarded the Junior Research Fellowship of the University Grants Commission in the year 1977-1978 to work on the Doctoral Thesis on which this volume is based. She joined the Department of History, Medieval and Modern, Gorakhpur University as a Lecturer in 1980. She obtained the degree of Doctor of Philosophy in 1993 and has since then been associated with the Department as a Reader. Her Research Papers and Research Guidance testify to her special interest of the study of the various aspects of the life and status of women in Medieval and Modern Indian History.
AAYU PUBLICATIONS
Indological Publisher
Head Office: D-134, Agar Nagar, Prem Nagar-3rd, Som Bazar Road, New Delhi - 110086, India
Phone :+918068214297
Fax :91-11-65028725
Mr OMPRAKASH SINGH (Proprietor)
Mobile :+918068214297
Sales Office -- A12 manageram park,old praladpur road budh vihar,new delhi 86.(near shamshan ghat)